Aviation Proud
Main Content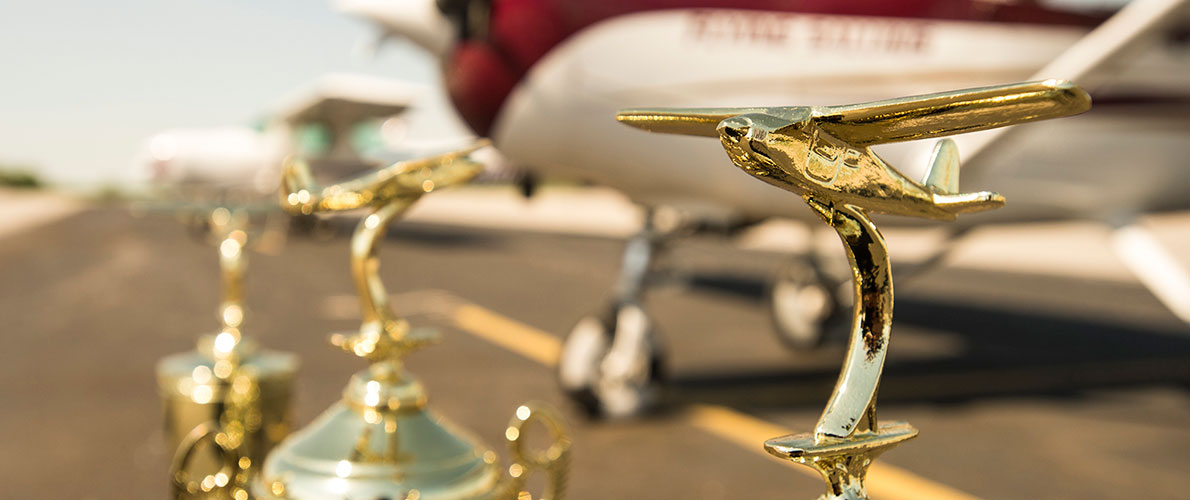 The School of Aviation is proud to recognize our aviation alumni who have achieved success and recognition since their graduation.
Robert Bryant

Sussex County officials announced Tuesday that Robert L. Bryant has been appointed as manager of airport and business park operations for Delaware Coastal Airport in Georgetown. 

Bryant, of Salisbury, Md., who began his duties this week, takes over for Eric Littleton, who returned to NASA's Wallops Flight Facility in Virginia for a new post after a year in Sussex.

Former airport manager Jim Hickin, who retired in the fall of 2019, returned to the county in a part-time capacity until Bryant could be brought aboard.

Bryant was selected from a field of four candidates for the job that oversees day-to-day operations of Delaware Coastal Airport, which has roughly 35,000 landing and takeoff operations annually from a variety of aircraft, as well as the adjacent Delaware Coastal Business Park, both just outside Georgetown.

Bryant comes to Sussex County after holding various operations and supervisory positions at airports in Louisiana, West Virginia, and Maryland, dating back to the late 1980s, most recently as the longtime director of

the Salisbury-Ocean City: Wicomico Regional Airport, a post he held for 23 years.

Since retiring in 2016, Mr. Bryant has served as a college-level instructor, and as an assistant project manager for a New Orleans-based aviation, energy, and community planning firm. 

"I really missed being on an airfield, and this is an excellent opportunity to get back around the aviation community I have known and loved for more than 30 years," Bryant said. "I'm excited to be joining Sussex County and thank the County Council for this chance to get my hands back in the business, planning new projects and making sure our pilots and aircraft can continue to enjoy and rely on the best possible aviation infrastructure." 

County officials said Bryant's background working in the public sector, his familiarity in working with the Federal Aviation Administration and regional airport operators, and leading various airport capital, marketing and safety projects, made him the clear choice for the position. 

"Bob has the right mix of general aviation understanding, project development and long-term management experience our airport needs to get to the next level," County Administrator Todd F. Lawson said. "He knows municipal airports, he understands how to work with elected leaders and navigate the funding channels at the local, state and federal levels. There's no question he's

more than qualified, and we look forward to parlaying his experience, expertise and enthusiasm for aviation as the county continues to improve the airport in the years to come."

The airport, built in the 1940s and utilized at one point by the U.S. Navy, is a general aviation facility popular with pilots of small aircraft and corporate jets. For more than a decade, the county has made a host of multi-million-dollar improvements at the airport, from new tie-down aprons and state-of-the-art lighting to a new crosswind runway and extended main runway.

The latter project – extending the main runway from 5,000 to 6,000 feet – would accommodate larger aircraft, including Boeing 757s, which would fly into the airport for conversion work at manufacturer ALOFT AeroArchitects in the adjacent Delaware Coastal Business Park. The first of two extension phases has already been completed, with the runway now at 5,500 feet.

"The airport and business park are a critical economic development tool for Sussex County, so it's an absolute win to have someone of Bob's credentials join to help lead our efforts to grow," County Council President Michael H. Vincent said. "We look forward to working with him." 

Bryant, who has a private pilot's license and previously won accreditation as an airport executive with the American Association of Airport Executives, holds a bachelor of science degree in technical careers (airline and airport management) from Southern Illinois University in Carbondale, Ill.

Ryan Buttney and Dan McMahon

This cockpit photo is of Ryan Buttney (foreground) and Dan McMahon, both alums and both former Flying Salukis. They were on the Flying Salukis team, photo below, that won our first National Championship in the "modern era" (since 1984)! Ryan is right behind the trophy and Dan is right behind him over his left shoulder in the lavender shirt! They both come back for events on campus, or, for the SIU Aviation Golf Scramble.

The cockpit photo depicts them getting ready to take a Delta Boeing 767 from Seattle to Tokyo, Japan last year (2019). Ryan is in the jump seat and is an "International Relief Pilot" who relieves a crew member about six hours into the flight. So, only 8 years after graduating, they are flying internationally for one of the largest U. S. Airlines.

Veronica Knunde

After graduating from SIUC in December of 2017, I got a job as an Operations and Security Coordinator at Aspen Pitkin County Airport in Colorado. After spending 9 months there, I moved back home to Zambia. I interned at the Zambia Civil Aviation Authority and most recently got hired to be a pilot for Niner Juliet Logistics Limited. Niner Juliet is a logistics company that serves as an aviation consultancy and a Fixed Base Operator that focuses on aviation management for the general aviation sector and wildlife sector.

My position as a conservation pilot has me flying vets, conservationists and other national park workers to various National Parks in the country that are in remote areas with gravel runways. A big part of flying into these strips is ensuring that there are no animals on the runway prior to landing. Animals on the runway is a common occurrence at these strips. Being a conservation pilot also involves doing low level flights searching for poacher camps, poachers and dead animals (likely killed by poachers). It's a rewarding job because I feel like I am contributing to something bigger and vital in my country. It has only been a couple of months on the job, but I am learning so much and excited for what's ahead.

Brette Simpson

Brette Simpson is a 2017 graduate of the Aviation Technologies program. She is currently a field mechanic at Helimax in Sacramento, CA that operates the CH-47D Chinook on fire contracts. Brette works in a 5-man maintenance crew that follows the helicopter wherever it goes, U.S. and overseas, maintaining it day and night. On a normal day, maintenance tasks lasts anywhere from 8 to 16 hours and she is also one of two mechanics that fly onboard in case there is a maintenance issue en route.